Living home in Colorado = lumber + stone + nature
"This home illustrates what I call Living Architecture" exclaimed on the occasion of his creation David Barnett, chief architect in Barrett Studio Architects, the main person responsible for Stoneview home & art barn. The house is in typical of Colorado shapes and materials, and its owners are no less colorful – a cowboy and an artist.

Stoneview home & art barn is both rough and luxury home. Massive raw steel beams coexist with smoked larch. Interwoven wooden elements pass smoothly in the light of the glass walls.
Space and natural materials characterize this living house. Everything brings comfort, warmth and a sense of light, space and protection.
Path in the woods, trees and … a house ?! Scattered stones in front, as if disorderly, with beautiful lavender foliage growing over. Grass, more stones and trees, grew like to keep the building from winds and evil storms. Stairs, massive stone again. As if they have always been there and the house just found them. Stirred towards nature volumes. Oriented smart, eager to splendid view. Outdoor porches with fireplace. Round one, as in a camp, for heat and light, not disturbing the forest.
And inside .. like outside. Furniture in earthy colors. Fireplaces. Wrought iron. Warm colors, paintings, piano and … a frighteningly beautiful curved staircase railing. Billiard table made of solid wood! Home, epitome of beauty of the human mind. Embodies the deep connection between man and nature. Living home! Find yours here.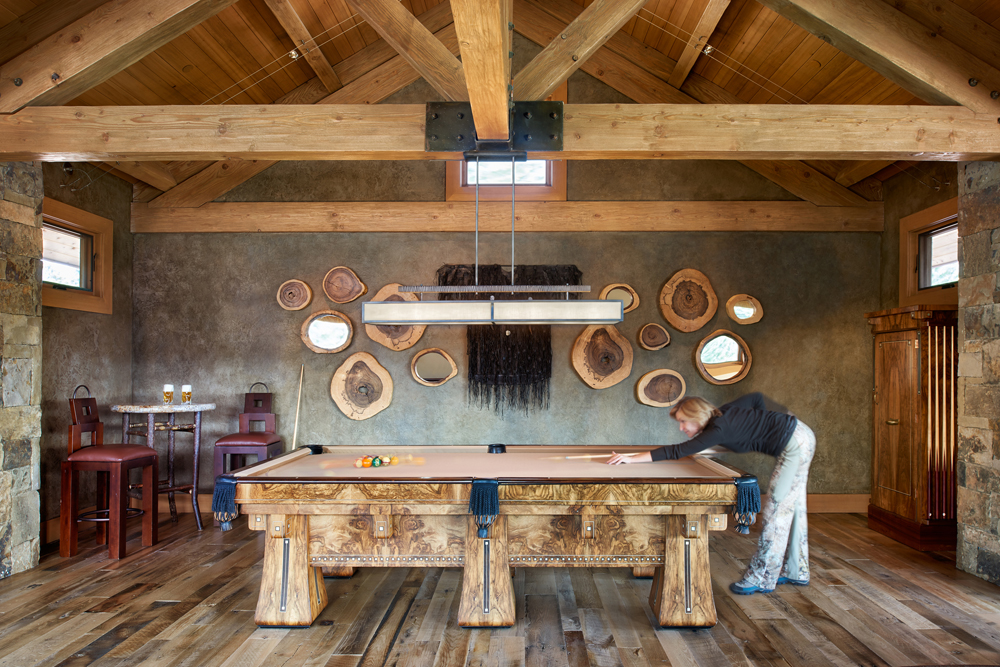 Source: http://www.barrettstudio.com/portfolio/living/stoneview-home-and-art-barn