A mountain hut? Yes, but unique one!
Ladysmith, Quebec, Canada – sheltered family wooden hut, near a lake, craves change. Its seventy years are already visible and heavy. When the property passed into the hands of the son, he decided to give it a new look and stability. The consultants Kariouk Associates, however, found that the time for preservation has passed. The old has to be destroyed for the new one to be build. For sentimental reasons, the owner required the size and location of the new building to be the same. The original blueprints came in hand. The house was prefabricated and the parts delivered to the site and assembled, which helped in reducing the costs and time. The main material used is CLT = cross laminated timber.


CLT comprises of several layers of dried wooden boards, cross-wise glued, forming a rigid, rectangular panel. CLT is a material for large-scale construction and is primarily used for the construction of the so-called prefabricated buildings. It is light but very strong and with excellent sustainability characteristics, incl. to fire, heat and earthquakes.
In this project CLT is made of glued laminated boards of black spruce. It covers all surfaces, except for those in the bathroom. The technology resembles the construction of huts of wooden trunks in the past (and today) – all natural materials and assembly of the parts in a building. The industrial look of the hut comes from the external electrical system on the property.
The view is a panoramic one, to the lake, provided by the wooden porch of the hut.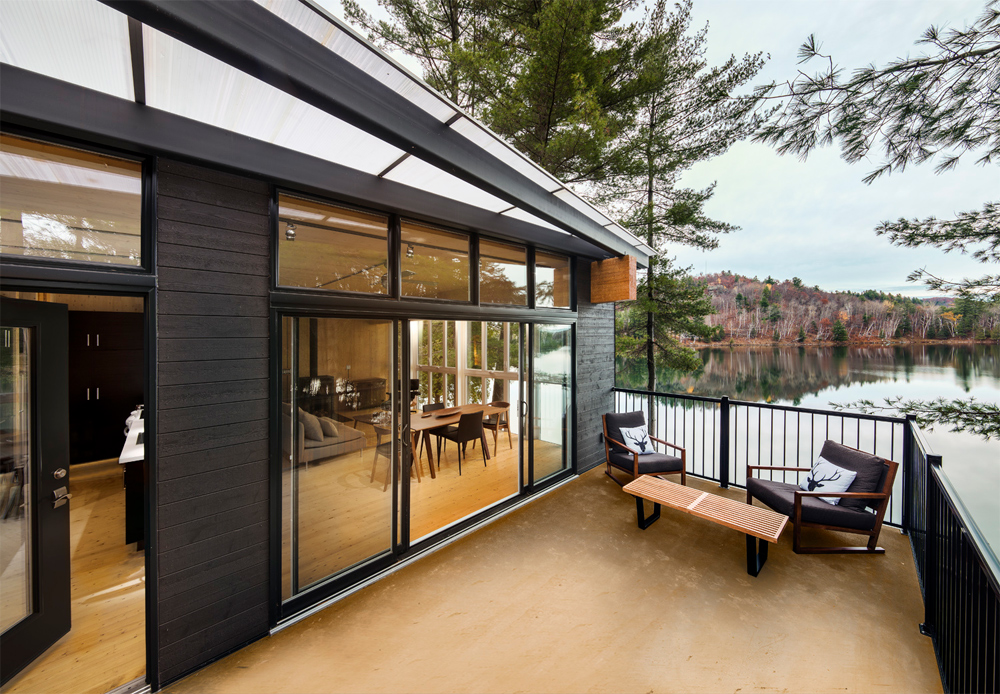 You are interested in prefabricated houses? We are the right people! Own factory, high quality, certifications, skills, professionals … our prefabricated low-energy houses are produced under the brand RichHouse, which in its turn is owned by "MKM – BG Group" LTD. More – here.


Source and photos: www.kariouk.com