"St. Jakob", Netherlands – church converted into home
Let's all thank the genius architects for their good ideas!
The best are those with the infinite imagination. As children they've been red countless fairy-tales, For sure. Then they continued with fantasy books (Farewell, Sir Terry). And they have unique point of view to the world, covering many perspectives at once. What's in their minds this time?
The Dutch visionaries from Zecc Architecten have decided that a great old church – historical monument, in Utrecht, the Netherlands, equals = to a wonderful new home. God's home was transformed into a human one. Very interesting decision somehow starting a fight with statistics showing that since 1970, more than 1,000 churches in the Netherlands have been abandoned, as eventually one third of them are destroyed. With them the legacy they carry. The historical layers of the settlements weaken.
How to give new purpose to the old and preserve it as part of the landscape and the spirit of the Netherlands? That is the question the team of Zecc Architecten answers. The high ceilings, huge interior spaces, great stained glass windows are only a plus to this mission.
"St. Jakob" in Utrecht is now a Home.
The last service in the church was in 1991. Then it sheltered an antique furniture showroom and occasionally has sounded by small concerts. The constructed for the purpose of furniture exhibition mezzanine was subsequently partially removed from Zecc, in order to maximize widening of spaces and light.
The living space is separated from the rest of the building. It has the status of a temporary structure under the umbrella of a historical monument and can be destroyed at any time, if the purpose of the "Saint Jacob" changes. It is constructed of steel, wood and plasterboard and is not physically connected with the church walls, columns and arches. Railings and glass partitions mark unobtrusively the boundaries of the church build-in residence.
Under the semi-floor are the bedrooms, study and bathroom, illuminated by natural light coming from hollows on the floors and walls. The pews are part of the dining space. The old wonderful wooden floors, stained glass windows, doors were repaired and shine with a new light in this interesting unusual space. Among entirely white walls and rows of windows with gorgeous rosettes in all colors of the rainbow, here and there is a sofa, arm chair, ottoman-stone, lamp, picture or … drums.
Architects and designers from Zecc have managed to keep the idea and the image of a church building, while at the same time the living space is clearly outlined and declared. The building is not divided into cells or modified in a way, it cannot return its old look, if one day decides to become a public building. Or a church?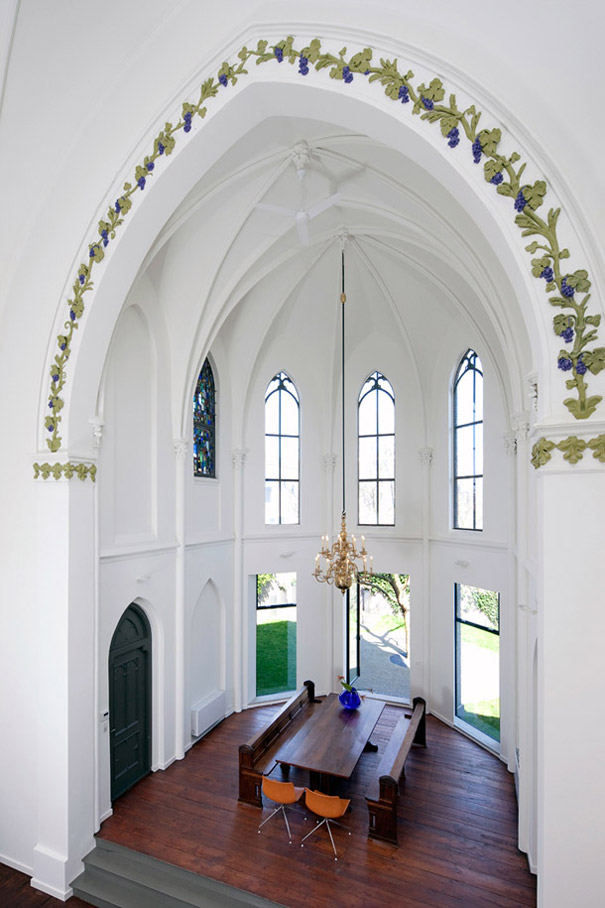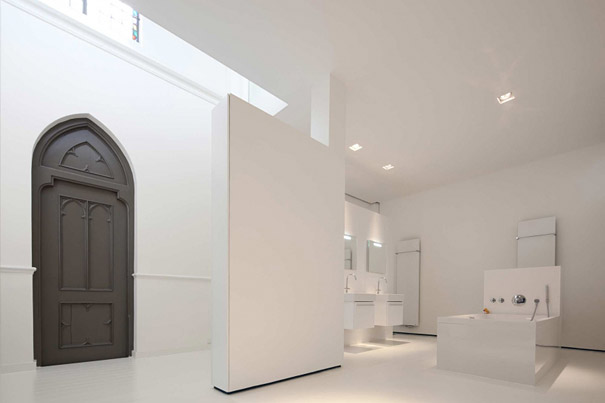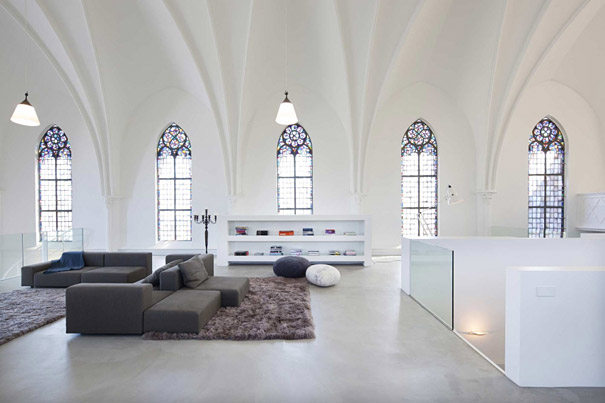 Source: www.boredpanda.com