Tale of the tree stumps in the dream house
The house of your dreams is already a fact? (If not, find it here) The time for furnishing has come. The larger pieces are already bought and on place, the smaller details are to be found. You want to make part of your home something from natural materials? But one made not of wooden particles, but from a beautiful real thing? Let's see, if we can help. What would you say if we suggest a tree stump? They are something you can make great things from – starting from a path in the yard, through bedside or coffee table, stools, flower pots, wall panels, to whatnot. Red cedar, redwood and oak tree are the best you can use. Which of course does not mean that you cannot use any other type of wood you prefer.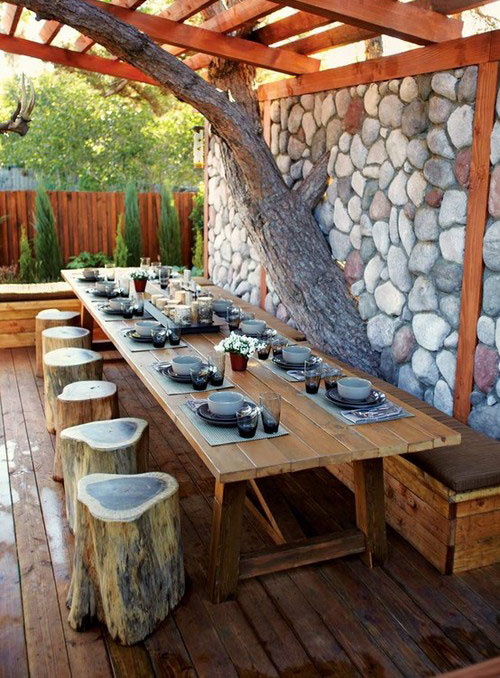 What you will need:
Tree stump or tree trunk
Hammer, chisel or crowbar
Sandpaper – fine and medium grit
Polyurethane primer, varnish, wood preservative or combined product
Brush
If you want stump-table-chair-with-legs buy them + drill
Stain if you want to change the color of the stump slightly
1. The tree breathes, drinks water, rots, and shelters various animals while alive. After cutting, you need to dry it for at least 6 months if the climate is humid and it rains a lot, it's best to store it in a garage or anywhere else indoors.
2. If you already have a stump from somewhere, just bring it indoors for a week or two. Consider its height with its purpose – table, chair – you decide.
3. Once it's dry time has come to peel the bark. You can do so using a hammer, a chisel or crowbar. Position the crowbar behind the bark, hit with hammer while bark loosen enough. For some types of wood a few hits are enough. Remove the bark. (Yeah, it must be removed, otherwise will fall after time) If the bark is particularly hard and crowbar does not help, here comes chisel. Push it gently behind the bark, careful not to damage the wood.
4. Congratulations! You have yourself a no-bark-stump! Do not worry if it's slightly chopped aside. This adds more character and authenticity to its appearance. Time to smooth it. Use several different types of sandpaper. Clean the hairs and keep sanding, while the surface of the stalk feel smooth without bumps.
5. Wipe with a damp lint-free cloth or mild abrasive one. Clean well.
6. Optional step: Stain – if you want to change and / or balance the natural color of the stump, the stain will penetrate into the pores of the wood without clogging them; will retain its structure and beautiful patterns; apply with a brush or plain paper towel; select a color close to the stump;
7. Polyurethane varnish or other sealing products for wood – Use natural hair brush all over the stump. Do not worry if the surface darkens; after drying it will return to its color. After the first coat dries, carefully sand with fine sandpaper the surface to remove all burrs and irregularities. The fine dust after sanding will disappear with the application of second coat. 2-3 hands are needed for the walls of the stump and about 6 for the surface. (It absorbs much more in depth than the walls) Always wait the applied layer to dry before applying the next coat.
8. If you want to add legs, now is the time to do so. Use the drill to make appropriate holes and screw the legs to place.
Done!
Congratulations! You already have a great stump, you can use as part of the interior or the garden of your dream house, as favorite outdoor game for your kids; for bedside or coffee table, or why not for a stool or chair? If you make a few, you can deploy them next to a proper table in the garden. To do so or for wall panels or flower pots made of stumps, read our next articles. Create the interior of your home by yourself, with our help.
Source: www.homeguides.sfgate.com, www.theartofdoingstuff.com