The tree-stump and the flowers
After the previous materials on the topic – "Tree stump path in the garden" and "Tale of the tree stumps in the dream house" here we are again in pursuit of new ways to use, yeah, again, the tree stump.
How to fill it with flowers and fit it in the interior or exterior of your home, read on:
Tree-stump – flower garden
For some reason you cut a tree in the yard. Removing the stump is a difficult task. Why, instead, not turn it into a mini-garden with colorful flowers?
What you will need:
safety glasses
mattock
hand or electric drill
pebbles for drainage
fertilizer and soil
Flowers by choice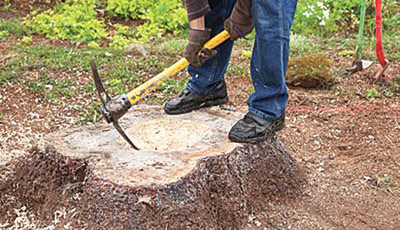 Step 1:
Put on your safety glasses on. Using a pick (mattock), start digging the stump.
Step 2:
When the hole becomes larger, use the wide end of the pick. Proceed carefully to the ends of the stalk, leaving at least eight centimeters to them. A suitable depth is 10 to 20 centimeters.
Step 3:
Drill holes for drainage – use hand or electric drill and make angled holes in the walls of the stump that lead out to the ground.
Step 4:
Add a suitable drainage, for example pebbles, then fill it with 30% fertilizer and 70% soil. Consider the location of the stump – whether it is in the shade or sun, depending on that plant corresponding flowers in.
Another option that you can choose that does not include digging the stump is simply to put on it beautiful pots with flowers. Pick it up according to the style of your home. If your house is traditional, you can use a clay or copper pot.

If you have a larger branch, follow the above procedure, but carve it at length – the result will be an impressive branch-planter. Place on a suitable place in the garden (sunny or shady depending on the planted flowers) or on the porch.
Wonderful accent to any home would be a pot of tree stump or branch. It is inexpensive and impressive alternative to traditional ceramic and plastic containers for flowers.
You need:
suitable piece of wood (trunk piece, stump or branch)
chisel and hammer
sandpaper
Carved the wood. Rob roughness with sandpaper. Apply wood preservative agent to protect wood from decay and unwanted guests.
Put gravel for drainage, if you will use for direct planting of plants. Particularly suitable are cacti or succulents.
If you are creating a pot, carve and place in a smaller plastic one. It is good to be able to put a saucer with higher edges on the bottom and nylon underneath.
These natural plant pots fit well in ultra-modern and traditional interiors both.

Similarly, you can make a great vase. Follow the above steps, complying the carving of the wood with the size of the glass cylinder that will put in. Done!

You can use he carved tree stump as a Christmas tree holder – pot too. Why not?
Sources: www.thisoldhouse.com, www.minimalisti.com, www.shelterness.com