Constructing Your home to the stage of shell
What is the definition of shell that the investor should know before starting the construction of a house? What does it include the shell?
When you say shell it means constructing the design of a building or construction. Designs are architectural and engineering. The architectural ones are dwelling buildings and the engineering are roads, dams, bridges and others.
The building can be divided in parts which are called elements of the building. The latter is called zero cycle and bearing skeleton whose building process is often called massive shell. Other elements of the building are floors, the roof, walls, doors and windows, suspended ceiling and others.
The constructive insulting panel has two OSB flattings, between which, under pressure, thick ESP is glued, being used as heat insulation.
The thickness of the panel in the last faze is from 120mm to 224mm.
This kind panel has the unique energy saving characteristics and it has high tenacity.
The transverse edges of the panels are closed with beams, which play the role of connection called "tongue-feather".
The walls and angles, put together according to this technology, thy are perfectly flat and straight.
The panels themselves can be seen as bearing elements.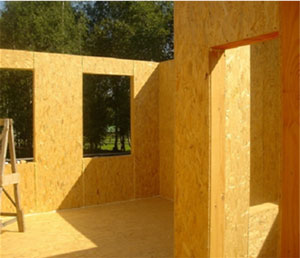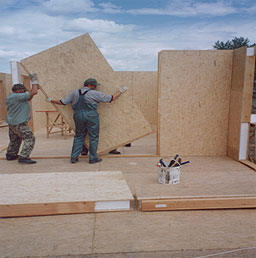 SIP-panels have a minimum weight, which enables the worker, without using a great amount of strength, to carry and install.